Led By Award-Winning USPTA Directors of Tennis Merissa Rock & Damon Henkel
Bardmoor offers instructional programs for players of all ages and skill levels led by USPTA Certified Merissa Rock and Damon Henkel. Both are award-winning players and instructors with impressive resumes (see highlights below). Group clinics as well as private lessons are also avalaible.
Weekly Adult Tennis Clinics Schedule
Adult Clinics: Tuesdays & Thursdays, 6:30pm – 7:30pm
Adult Cardio Clinics: Saturdays at 8:30am
Men's 4.0-5.5 Clinics: Wednesdays at 6:30pm & Saturdays at 10:30am
Ladies League Clinics: Call for times and levels of play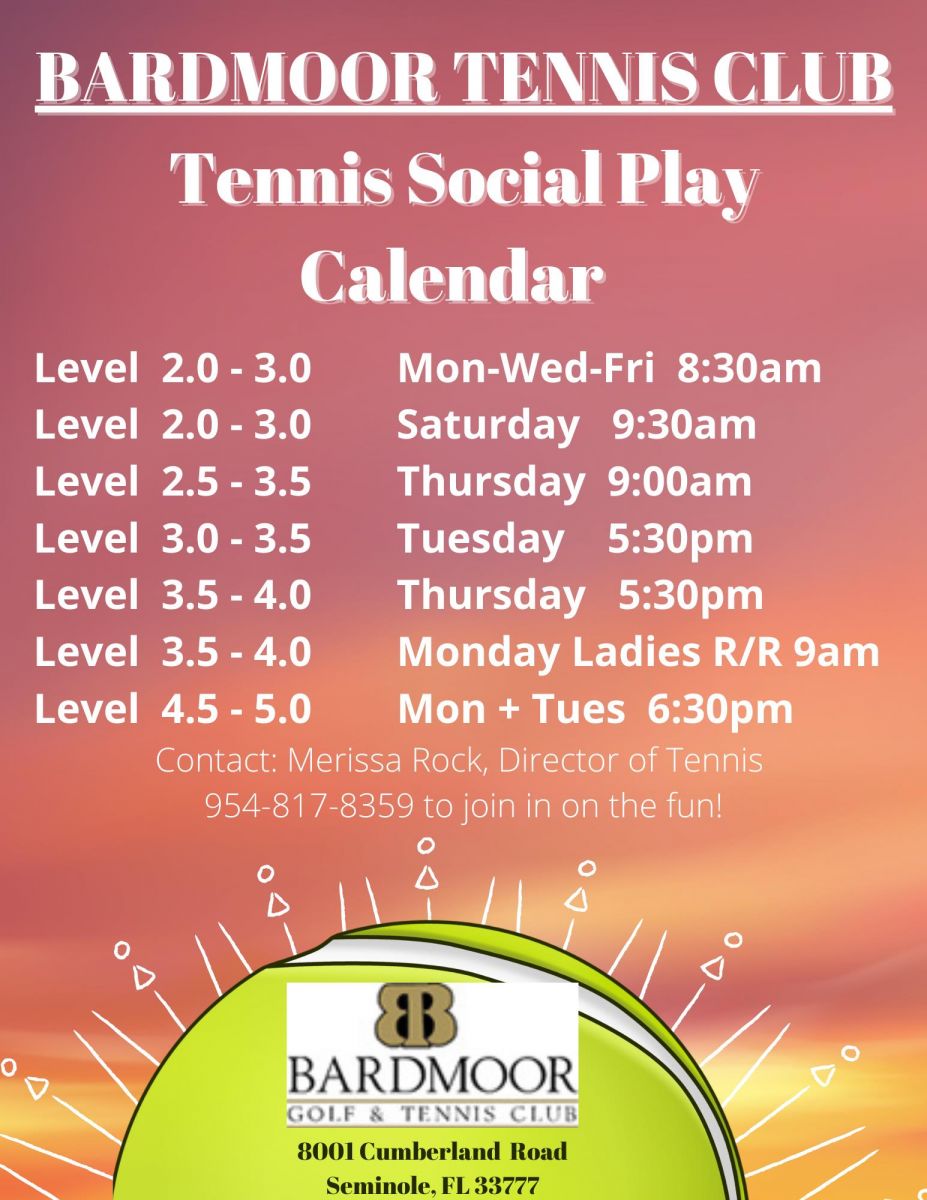 Summer Camps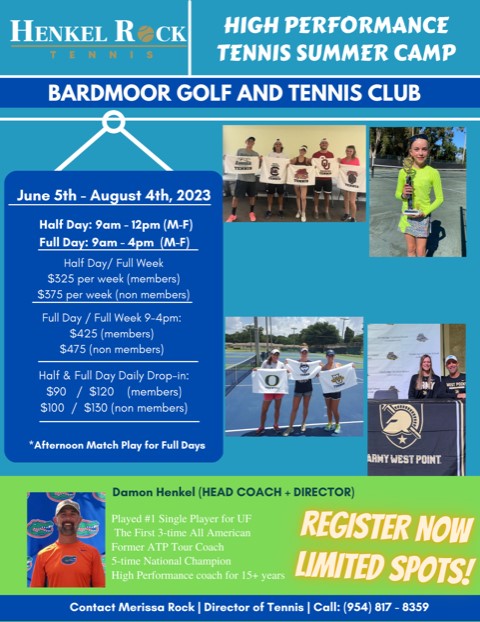 Bardmoor's Junior Instructional Program is one of the finest in Florida!
Bardmoor's Junior Tennis Instructional Program is staffed by USPTA professionals with years of junior coaching experience. Camps, clinics and individual lessons are available for all ages and levels of interest and ability. Instruction is arranged throughout the year to accommodate the school hours. Training is offered for juniors interested in a professional tennis careers or competing at the highest levels. Students from Bardmoor have been ranked high sectionally and nationally.
Weekly Junior Tennis Clinics Schedule
10 & Under Juniors: Tuesdays & Thursdays at 4pm & Saturdays at 9:30am
High Performance Juniors: Tuesdays, Wednesdays & Thursdays, 4:30pm – 6:30pm
Ball Machine is Available.
To book a time or for more information on Tennis Programs & Instruction, please call
(727) 392-1234.
About Bardmoor's Directors of Tennis
Merissa Rock, USPTA
Trained as a Junior by Chris Evert's (former#1 in the world) father Jimmy Evert in Fort Lauderdale
#1 in the State of Florida as a Junior
Played #1 Singles and Doubles for Fort Lauderdale High School & MVP All 4 years
Played #1 Singles and Doubles for Queens University of Charlotte & MVP All 4 years
Won 2 USTA Clay Court National Titles in Women's Open Doubles in 2009 & 2010
USTA National Clay Court Women's Doubles Open Finalist in 2015
#1 in State of Florida Women's Open Doubles 2005, 2006, 2015 & 2016
#1 in the Nation in USTA Women's Open Doubles in 2009 & 2010
Started Teaching at Age 16 at Jimmy Evert Tennis Center
Graduated from Professional Tennis Management Program at Queens University of Charlotte
Assistant Director at Boca West Country Club 2010 to 2017 where she Developed/Executed Both Tennis and Pickleball Events, Tournaments and Clinics
Damon Henkel, USPTA
Started Training at Bardmoor at the Age of 14 under Billy Stearns
Won 5 National Championships by the Age of 14
Top 10 in the Nation in Singles as Junior and #1 in Country in Doubles as Junior
Played #1 at University of Florida where he was the Youngest 3 Time All-American in UF's history, 1st Player to Win 20 or More Matches Each Year and had a Career Total of 102 Wins
2 Years Assistant Coach at University of Florida
Coached ATP Player Mark Merklin on Tour
Owned Synergy Tennis Academy while a Director at Woodmont Country Club
2012 became High Performance Coach at Golub- Henkel Tennis Academy
USPTA Certified High Performance Coach for the Last 15 Years